Sylvaner
Thirst-quenching
This youthful, thirst-quenching wine is perfect in summertime.

The eye, the nose, the palate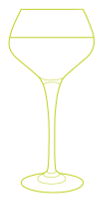 This fresh, thirst-quenching wine is one of those preferred in summertime. It can be served quite simply as a summer aperitif among friends, but it's also good with shellfish, such as oysters, and with fish dishes or charcuterie. These dry, light and lively wines bring out the best of the food they're served with.
Clear in the glass with subtle hints of green, the wine's aroma is discreetly floral or fruity with notes of citrus, white flowers and freshly cut grass.
Its vivacity on the palate makes it a pleasant, thirst-quenching wine.
Sylvaner grapevines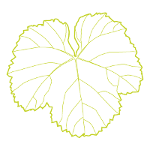 This wine grape variety can be recognized by its round leaves with big, sharp teeth. The grapes are grouped on average-sized, compact clusters and are identifiable by the brown-specked green that over time turns golden yellow. The berries are relatively thick-skinned and slightly acid.
The Sylvaner is grown on parcels of light earth, sandy and rocky, where it ripens the best. While the yields are regular, it's sensitive to spring and winter frosts.